The store will reopen on the 3rd December
We will not be taking any orders for website deals,
however we will have display deals to take away from 10am in limited numbers
We will also have a small number of Exclusive Deals.
No repairs or upgrades without a prior appointment.
MANY ITEMS ARE RUNNING OUT OF STOCK AND MAY NOT BE REPLENISHED BEFORE CHRISTMAS
.
email bookings@ac-technology.co.uk for appointment
CHRISTMAS DEAL 2 - AMD RYZEN 3400G 8GB VEGA Gaming PC FULL PACKAGE AC251
Designed for use with games like the ones detailed below in low to medium settings, for higher end gaming please see our other range. 
Minecraft
Roblox
Sims
Football Manager
YouTube
Facebook
Office Applications
Streaming Internet TV
Fortnite
Apex Legends
Call of Duty
Doom
Includes:
Case with RGB Fans

Windows 10
Wireless adapter and LAN for internet connectivity
22" HD Screen
Backlit Keyboard and Mouse
Specifics:
Built using all new parts with a 3 year shop warranty on all parts.

Processor - AMD Ryzen 5 3400 6 Core 3.7GHZ 4.2GHz Turbo

Motherboard - A320 with 2 x DDR4 Slots, USB 3.0 and HDMI output
USB - Minimum 4 at the rear and 2 at the front
Sound - Integrated sound with headphone & Mic socket at the front and the rear. Works with standard headphones or speakers which can be added HERE 
Memory - 8GB DDR4 which can be easily upgraded
Optical - No DVD Drive, if you need one please ask for details of our external drive 
Hard Drive - 1TB SATA 
Case - Cronus Metis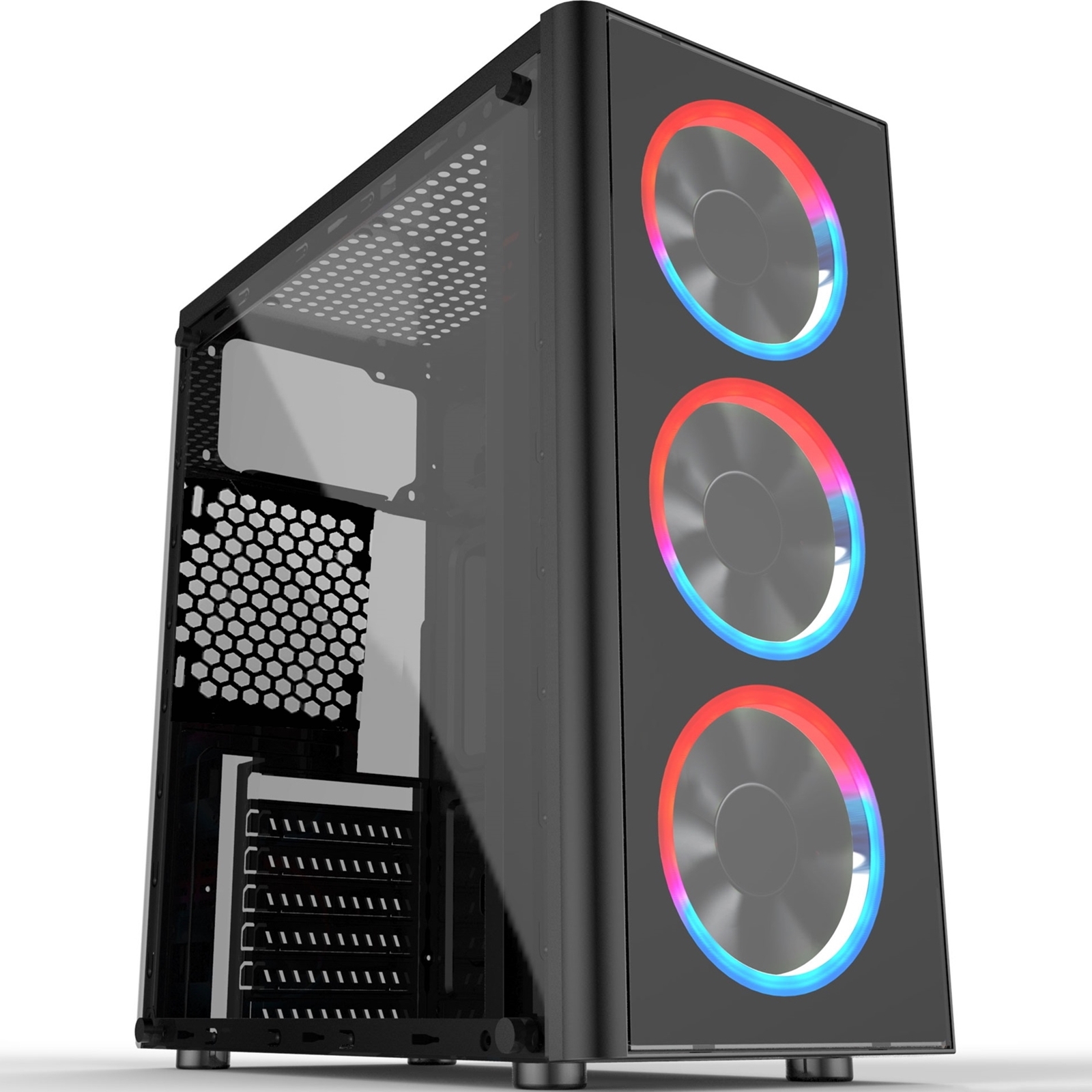 Graphics 
AMD have taken their ground-breaking processors and fused them with the incredible, visually immersive Radeon™ Vega Graphics for a one-stop processing shop that's cool under pressure and fuels your imagination. With Ryzen and Radeon on the same chip, you can see your PC's true potential.


AMD Ryzen processors deliver exceptional PC performance with revolutionary machine intelligence, massive multitasking capabilities and a highly efficient architecture that mean faster, smoother experiences for you.

Features
- High performance graphics engine in a desktop processor.
- Advanced quad core performance.
- 1080p gaming performance, without a discrete graphics card.
- Beautiful display features with Radeon FreeSync technology.
- Full benefit of Radeon software driver features including Radeon Chill, Enhanced Sync and Radeon ReLive.
CORONAVIRUS UPDATE
Our shop is now CLOSED to customers although the WEBSITE is as running as normal with shipping at around 8-14 WORKING DAYS.STOCK LEVELS are running low on all items
Our Store is due to reopen normal hours from 3rd Dec with max 6 people at a time wearing face coverings. PLEASE NOTE you can not order any website systems in store. The only PCs available will be those on display which normally sell out each day. and 2 special Christmas PC Deals. Unfortunatley due to demand we have had to restrict items that will be available before Christmas. 
We Deliver both LOCAL and NATIONAL See below for how!
1. LOCAL EVENING DELIVERY - Includes St Helens, Widnes, Liverpool, Warrington, Wirral, Chester, Manchester, Southport, Bolton, any area within the M60 or within a 25 mile radius of Liverpool. We deliver these areas with our own driver who delivers in the evening so please don't add a work address unless you are there in the evening. Delivery is normally within a few working days from your order but are not confirmed until the delivery day. You will be called by our mobile number which will be in your confirmation email.
If you are unsure of your area being within our local driver area or need a delivery on a specific day please email us before ordering. You can also contact us by phone on 0151 228 2288 or by email enquiries@ac-technology.co.uk
Some areas slightly outside may also be delivered during the evening but may not be within 3 days.
2. COURIER DELIVERY - If you are outside of our area or are only available during the day please choose our courier service. We ship within a few days but delivery may take up to 48 hours and is only working days and hours. Delivery is between 9am and 6pm.

 Contact us by Telephone 0151 228 2288 our opening hours are Monday to Friday 10am to 6pm and Sat & Sun 12-5pm
When you buy from us you are buying from a highly experienced and qualified team of engineers who have been in the business for over 22 years. All PCs are constructed using some of the industries best quality components, then built professionally and tested thoroughly so we can give you a 3 year warranty with confidence. All PC peripherals, Cases, Power Supplies and Graphics cards are Brand New. All Ryzen and Coffee lake systems are 100% New Components from major brands. The most important part of a PC system is the graphics card when it comes. If you want more information please check out our FAQ
All Computers are provided with a USB Wireless adapter. This is great for computers close to the router. If you are further away from your router or wish to play online gaming we recommend the internal LAN or add an internal wireless card available from Accessories.
All images and videos are for illustration purposes, Graphics Cards are all major brands and brand new.
Where videos show specifics and game play for a card please note that the model provided will match or exceed the chipset shown.

Please note that computers do not produce sound unless you attach PC speakers, headphones or a Screen with built in speakers. You can add these in our accessories section.