Mini ITX Gaming PC Core i5 9600k i7 9700k GTX 1660 Ti M2 Small Form Case
ALL OUR PCS INCLUDE A COMPREHENSIVE 3 YEAR WARRANTY PLUS ANTIVIRUS SOFTWARE, OPERATING SYSTEM,  OFFICE AND VLC SOFTWARE PLUS WIFI, READY TO USE STRAIGHT FROM THE BOX.
Ideal for mid level gaming such as:
Fortnite 
Apex Legends
Destiny 2
Resident Evil
Prey
Assassin's Creed
Wolfenstein 2
Shadow of War
Fallout 4
Tomb Raider
BE AMAZED WITH THE 8TH & 9TH GEN DESKTOP PROCESSORS
Intel's 8th Gen processors let you have amazing gaming, entertainment and VR experiences. The i5 8500 processor extends all the capabilities that users love from previous generation CPUs with even more advanced innovatations that deliver new levels of performance immersing you into your computing on a veriety of form factors. The 8500 features all the latest Intel technologies to allow you to have the best computing experience ever.

EXCEPTIONAL I5 PERFORMANCE
The 8th Generation Intel Core processors redefine mainstream desktop PC performance. The i5 8500 features six cores for more processing power—that's two more cores than the previous generation i5 processor. Intel Turbo Boost 2.0 technology has also increased the maximum turbo frequency of 4.0 GHz, and up to 9 MB of cache memory. For the enthusiast, there is an unlocked 8th Generation version of this chip, the i5 8600K processor provides you the opportunity to tweak the platform performance to its fullest potential and enjoy even better gaming and VR experiences.

INCREDIBLE VIRTUAL REALITY

A high-performance processor is key to achieving a balanced platform to make your VR experiences great. Attach your premium head-mounted display (HMD) to an Intel Core i7 or i5 processor-based PC, and prepare to be amazed. The performance of the 8500 processor allows for the smoothest virtual reality experience yet. Keep in mind that great VR experiences involve the entire platform, not just any one component. The ideal combination of processor, graphics, I/O connectivity, display, and audio are required, but be assured that this 8th Gen Intel Processor wont let you down.

STREAM AND PLAY IN 4K UHD
Desktop computers based on the 8th Gen Intel processors integrate advanced media technologies that bring premium, high-quality content to your desktop, including HEVC 10-bit encode/decode, VP9 10-bit decode this delivers smooth streaming of premium 4K UHD entertainment to your PC from leading online providers. The Intel i5 8400 provides full-size, screen-immersive viewing experiences with 4K video and 360-degree viewing, Enables incredible 4K video creation and sharing with ease, and it finally allows High Dynamic Range (HDR) and Rec. 2020 (Wide Color Gamut) for life-like luminesces to provide enhanced image and video viewing experiences. Intel® Quick Sync Video technology accelerates most video capabilities, allowing users to create and share in real-time.

HARDWARE-BASED SECURITY
8th Generation Intel Core processors integrate hardware-level technologies that strengthen the protection of your enabled security software. Hardware-based security helps you experience online and offline activities with peace of mind, enabled by features that include Intel Software Guard Extensions (Intel® SGX) that helps applications protect your system and your data coupled with Intel® BIOS Guard and Intel® Boot Guard that help protect your system during startup.

8TH GEN PROCESSOR FAMILY
The 8th Generation Intel Core processor family is a great investment in your desktop experiences—whether for gaming, entertainment, or general-purpose computing wherever your life takes you. From the jaw-dropping performance of the Intel Core i7 processor with six cores to the practical capabilities of the Intel Core i3 processors, our latest generation of desktop processors fits a wide range of budgets and needs. Whether you're a performance-hungry professional, an exceptional enthusiast, or a first-time buyer, there is an 8th Generation Intel Core processor that will enable the experiences you seek. If form factor is your priority, the 8th Generation Intel Core processor family offers a range of processors designed for desktop PCs from high performance gaming towers, to slick and stylish all-in-ones, to compact living room minis.
Processor:- Choose
Intel Core i5 9600k
3.7GHz Turbo 4.6Ghz
Intel Core i7 9700k 
3.6Ghz Turbo 4.9Ghz
Memory - 8GB DDR4 
Motherboard - Z390 Chipset (Brand may vary)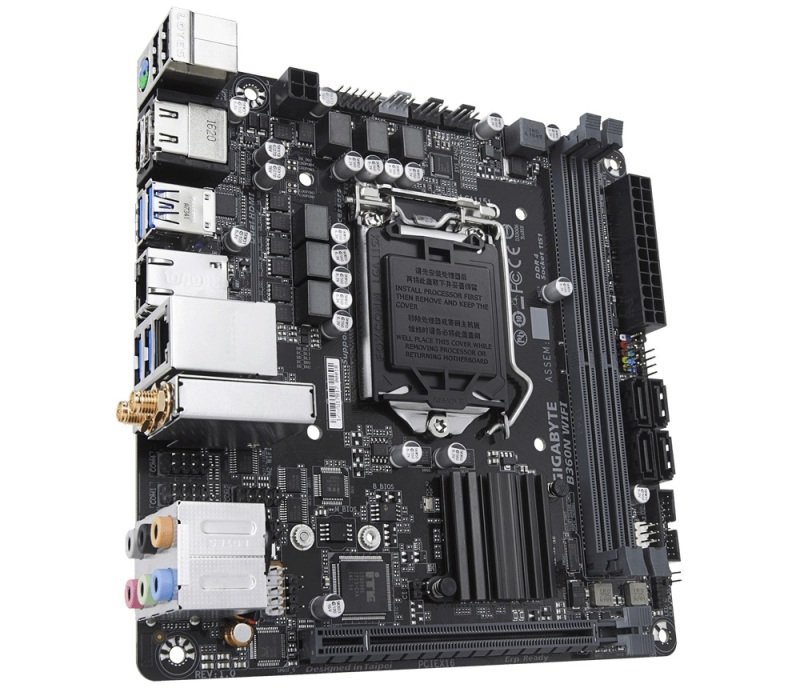 Sound - Integrated sound with headphone & Mic socket at the front and the rear. Works with any standard headphones or speakers (not supplied)
Storage - M2 240GB or 480GB
Host Memory Buffer (HMB)
The Host Memory Buffer (HMB) feature utilizes the DMA (Direct Memory Access) of PCI Express to allow SSDs to use some of the DRAM on PC system, instead of requiring the SSD to bring its own DRAM.
*HMB feature is only supported by Windows 10.

Breaking the Barriers of SATA Limitations with Outstanding Performance
GIGABYTE M.2 PCIe SSD provides performance for your daily computing tasks by utilising some of the best controllers & NAND flash memory available. This results in sequential read speeds up to 1200 MB/s, & sequential write speeds up to 800 MB/s, making the GIGABYTE M.2 PCIe SSD deliver a faster data transferring experience compared to regular 2.5" SATA solid state drives.

Graphics Card - Nvidia GTX 1660 Ti 6GB

Drive - No space for DVD Drive - if you need to use one we sell an external DVD drive for £15
Case: Silverstone Raven ARGB
SilverStone RVZ03-ARGB is a further evolution of the highly rated RAVEN Z RVZ01-E, a slim form factor case with tremendous capability. It has the same optimized interior that has room for a standard ATX (PS2) power supply and support for some the biggest consumer graphics cards on the market with superb air cooling performance. Designed for use in either vertical or horizontal orientation, it can be placed comfortably in any space-constrained environment that requires a powerful PC. For those looking to build a slim form factor PC with extra flair, the RVZ03-ARGB's inclusion of addressable RGB lighting and control box bring about another exciting chapter to the famed RAVEN series of computer cases. 


Signature RAVEN styled front panel adorned with addressable RGB light strip
Mini-ITX motherboard & ATX PSU compatible for wide array of building possibilities
Support cards up to 13 inches (330mm) to fit most high-end GPUs for compute power far exceeding consoles
Maximum performance in slim form factor with support for AIO liquid cooling
Positive air pressure design for excellent cooling/quietness and dust-prevention
Fits in nearly any environment with horizontal or vertical orientation
Cooling system
Top
1 x 120mm fan, 1500rpm, 18dBA
Bottom
1 x 120mm fan, 1500rpm, 18dBA
1 x 120mm fan slot
Expansion slot
2
Front I/O port
USB3.0 x 2
Audio x 1
MIC x 1
Limitation of CPU cooler 83mm
Limitation of PSU 150mm*
Net weight 4.05 kg
Dimension 382mm (W) x 105mm (H) x 350mm (D), 14 Liters
15.04" (W) x 4.13" (H) x 13.78" (D), 14 Liters
Accessories - Available as a package with other items such as
Raptor Set with Keyboard, Mouse & Headset or Keyboard & Mouse Deskset

Or add other accessories such as screens or webcams
We Deliver both LOCAL and NATIONAL See below for how!
1. LOCAL EVENING DELIVERY - Includes St Helens, Widnes, Liverpool, Warrington, Wirral, Chester, Manchester, Southport, Bolton, any area within the M60 or within a 25 mile radius of Liverpool. We deliver these areas with our own driver who delivers in the evening so please don't add a work address unless you are there in the evening. Delivery is normally within a few working days from your order but are not confirmed until the delivery day. You will be called by our mobile number which will be in your confirmation email.
If you are unsure of your area being within our local driver area or need a delivery on a specific day please email us before ordering. You can also contact us by phone on 0151 538 6812 or by email enquiries@ac-technology.co.uk
Some areas slightly outside may also be delivered during the evening but may not be within 3 days.
2. COURIER DELIVERY - If you are outside of our area or are only available during the day please choose our courier service. We ship within a few days but delivery may take up to 48 hours and is only working days and hours. Delivery is between 9am and 6pm.

 Contact us by Telephone 0151 538 6812 our opening hours are Monday to Friday 10am to 6pm and Sat & Sun 12-5pm
When you buy from us you are buying from a highly experienced and qualified team of engineers who have been in the business for over 22 years. All PCs are constructed using some of the industries best quality components, then built professionally and tested thoroughly so we can give you a 3 year warranty with confidence.