Metis Intel Core i5 9500F NVIDIA GEFORCE 1650 1660 1660Ti GAMING PC
Ideal for high performance gaming on mid to high settings such as:
Player Unknown Battlegrounds
Ark Survival Evolved
Planet Coaster
Just Cause 3
Doom
Battlefields 1
Hellblade: Senua's Sacrifice
Assassins's Creed Syndicate
Mass Effect Andromeda
Fallout 4
Witcher 3
Twitch Game Streaming
Will also do the usual low end requirements such as: 
YouTube
Facebook
Office Applications
Streaming Internet TV
Includes:
Gaming Tower with Colour Changing LEDs
Windows 10
Internal Wireless adapter and LAN for internet connectivity
Choose Tower Only or Package including 21.5" NEW HD Screen & Deskset
Processor: 
Intel Core i5 9500F 4.4GHz 
Memory: 8 DRR4 2400MHz 
Motherboard: H310 Chipset
Storage: 1TB and SSD Options (Operating System will be installed to the SSD unless you ask otherwise)
Graphics: Choose from GTX 1650, 1660 or 1660 Ti
Case: RGB Glass Metis Case
Details:
Processor: Six Core 9th Gen Intel i5-9500F Processor without iGPU
NEW LEVELS OF PERFORMANCE OVER THE PREVIOUS GENERATION
Experience exceptional performance, immersive entertainment and simple convenience with 9th Gen Intel Core processors. The i5-9500F processor extends all the capabilities that users love from previous generation CPUs with even more advanced innovations that deliver new levels of performance immersing you into your computer on a variety of form factors. 

Please Note: Although the Intel 9th CPUs are compatible with a range of Intel 300-series motherboards utilizing the LGA 1151 socket, for optimum power delivery, maximum performance, & the best possible overclocking experience, we recommend using a Intel Z390 motherboard with these processors. 
The Intel Core i5-9500F processor DOES NOT feature an iGPU. A discrete graphics card MUST be installed in your system in order to output to a display.
Motherboard: H310 
2 x DDR4 Memory Slots
Max Memory 32GB
Audio Realtek 7.1 HD Audio
USB 3.0 & USB 2.0
Graphics Card:
GTX 1650
GTX 1660 
GTX 1660 Ti
 Case: Metis RGB Glass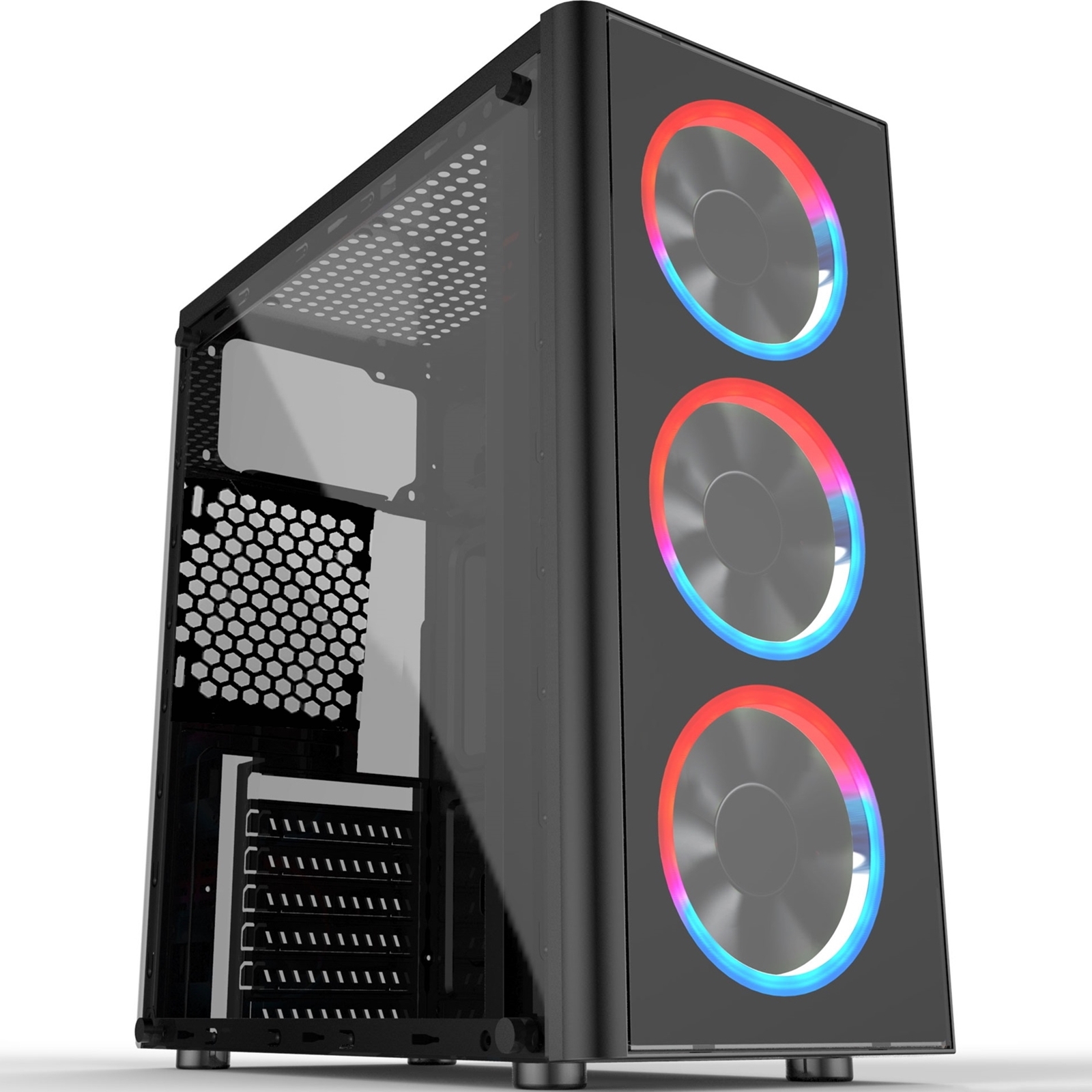 Features
- Tempered Glass Side Window Panel
- Tinded Acylic Front Window Panel
- 3 x RGB Fans with Control Button through the I/O Panel
- 17 Preset LED Fan Combinations
- Steel plate structure
- Folded edge for safe device installation
- Air guide and openings on side panel for better CPU & VGA cooling
- USB 2.0 and 2 x USB 3.0 with HD audio ports at the front for easy access
- Flashing light effect on the power button
Package Option:
Includes 21.5" HD Screen (Brand may vary) 
Keyboard & Mouse
For keyboard details CLICK HERE
Accessories - Choose your own accessories:
Raptor Set with Keyboard, Mouse & Headset or Keyboard & Mouse Deskset

Or add other accessories such as screens or webcams
Gaming tips
When playing games we always recommend checking out the specific game webpage before buying as you may not get the highest fps with the minimum specification.
Please note that the wireless included is a USB which has a reach of only within the same room. If you need a stronger internet then we suggest adding an internal card 
We Deliver both LOCAL and NATIONAL See below for how!
1. LOCAL EVENING DELIVERY - Includes St Helens, Widnes, Liverpool, Warrington, Wirral, Chester, Manchester, Southport, Bolton, any area within the M60 or within a 25 mile radius of Liverpool. We deliver these areas with our own driver who delivers in the evening so please don't add a work address unless you are there in the evening. Delivery is normally within a few working days from your order but are not confirmed until the delivery day. You will be called by our mobile number which will be in your confirmation email.
If you are unsure of your area being within our local driver area or need a delivery on a specific day please email us before ordering. You can also contact us by phone on 0151 538 6812 or by email enquiries@ac-technology.co.uk
Some areas slightly outside may also be delivered during the evening but may not be within 3 days.
2. COURIER DELIVERY - If you are outside of our area or are only available during the day please choose our courier service. We ship within a few days but delivery may take up to 48 hours and is only working days and hours. Delivery is between 9am and 6pm.

 Contact us by Telephone 0151 538 6812 our opening hours are Monday to Friday 10am to 6pm and Sat & Sun 12-5pm
When you buy from us you are buying from a highly experienced and qualified team of engineers who have been in the business for over 22 years. All PCs are constructed using some of the industries best quality components, then built professionally and tested thoroughly so we can give you a 3 year warranty with confidence.