WEBSITE IS OPERATING AS NORMAL 
Shipping is betwen 3-5 working days
However, our shop is currently CLOSED as per Government Guidance.
Please email for appointments for essential upgrades or repairs
bookings@ac-technology.co.uk
Ryzen GTX 1660 SUPER 1TB & SSD 24" HD Gaming PC Full Package AC242
ALL OF OUR GRAPHICS CARDS ARE GENUINE, BRAND NEW BOXED CARDS.
ALL OUR PCS INCLUDE A COMPREHENSIVE 3 YEAR WARRANTY PLUS ANTIVIRUS SOFTWARE, OPERATING SYSTEM,  OFFICE AND VLC SOFTWARE PLUS WIFI, READY TO USE STRAIGHT FROM THE BOX.
Ideal for mid to high level gaming depending on graphics choice such as:
Player Unknown Battlegrounds
Ark Survival Evolved
Planet Coaster
Just Cause 3
Doom
Battlefields 1
Hellblade: Senua's Sacrifice
Assassins's Creed Syndicate
Mass Effect Andromeda
Fallout 4
Witcher 3
Twitch Game Streaming
Fortnite
Assassin's Creed
Far Cry
Includes:
Gaming Tower with RGB
Windows 10
USB

 

Wireless adapter

 

and LAN for internet connectivity
24" Full HD Screen
Illuminated Keyboard, Mouse
Processor:  AMD Ryzen 3 3100 Quad Core 3.9GHz Turbo
Motherboard:  A320M (Brand may vary)
Expansion Slots

1 x M.2, 22-42/60/80, PCIe Gen3x4/SATA3
1 x PCIe 2.0 x1
1 x PCIe 3.0 x16
Memory: 16GB DDR4 2400MHz
Storage: 1TB Hard Drive & 120GB SSD
Graphics: GTX 1660 6GB SUPER
The latest iteration of GeForce graphics cards from NVIDIA to utilise the 'Turing' architecture; GeForce GTX 1660 SUPER is an affordable card built using the advanced new 12nm process. Targeted squarely at gamers who demand greatest bang-for-buck performance, the GeForce GTX 1660 SUPER, with its 1408 CUDA Cores & supported by 6GB of SUPER-fast GDDR6 memory delivers the perfect blend of raw GPU power, efficiency, & game-changing technologies for a mind-blowing PC gaming experience. Ideal for playing games at high settings on a 1080p Full HD display at high refresh rates.
Case: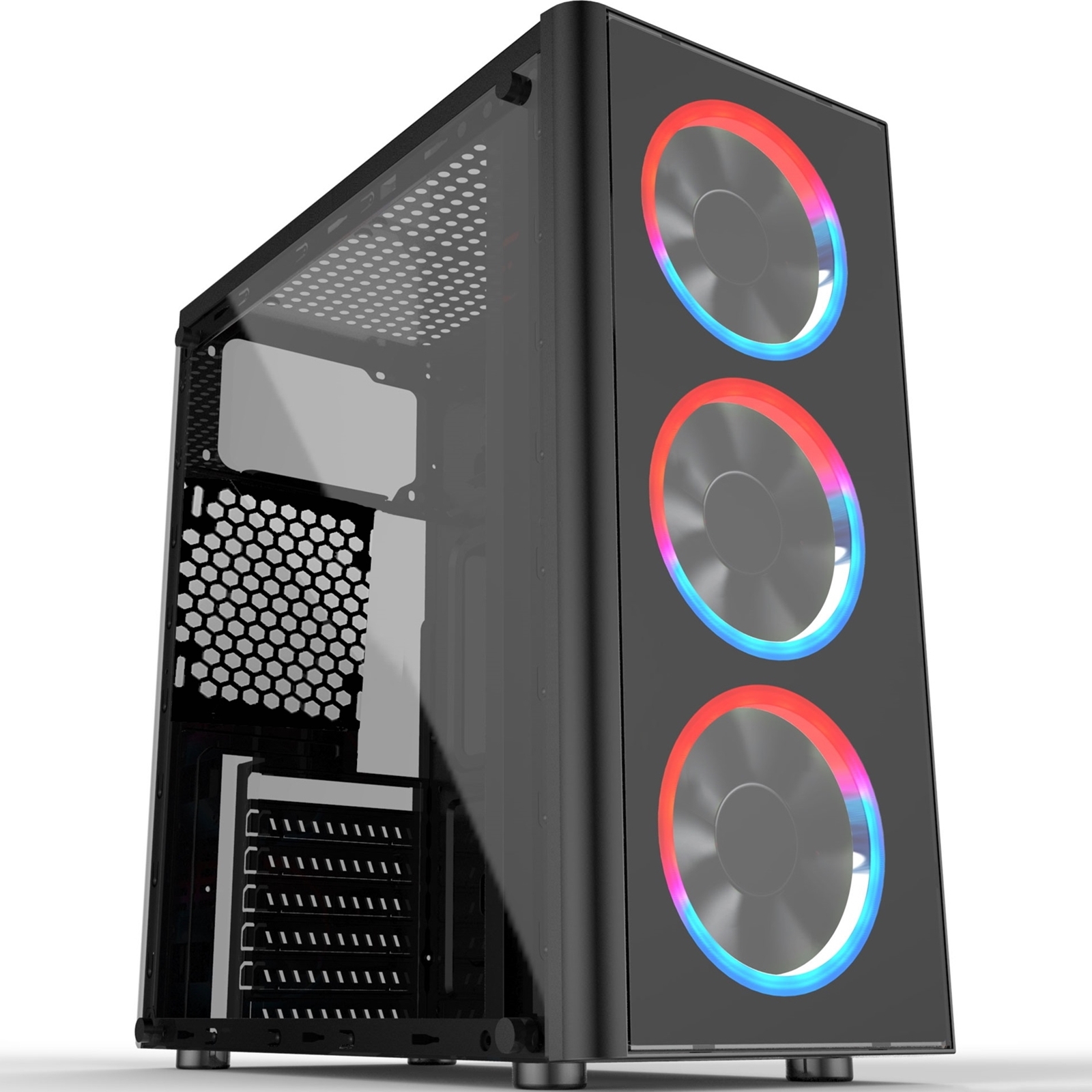 CORONAVIRUS UPDATE
Our shop is now CLOSED to customers, WEBSITE is as running as normal with shipping at around 3-7 WORKING DAYS. STOCK LEVELS are running low on many items
When the shop reopens there will be a max 6 people at a time wearing face coverings. If you are exempt from wearing a face mask then please wear a face shield or face covering. If you do not then you may not be admitted to the store. PLEASE NOTE you can only order website items in store if it is showing as in stock. 
We Deliver both LOCAL and NATIONAL See below for how!
1. LOCAL EVENING DELIVERY - Includes St Helens, Widnes, Liverpool, Warrington, Wirral, Chester, Manchester, Southport, Bolton, any area within the M60 or within a 25 mile radius of Liverpool. We deliver these areas with our own driver who delivers in the evening so please don't add a work address unless you are there in the evening. Delivery is normally within a few working days from your order but are not confirmed until the delivery day. You will be called by our mobile number which will be in your confirmation email.
If you are unsure of your area being within our local driver area or need a delivery on a specific day please email us before ordering. You can also contact us by phone on 0151 228 2288 or by email enquiries@ac-technology.co.uk
Some areas slightly outside may also be delivered during the evening but may not be within 3 days.
2. COURIER DELIVERY - If you are outside of our area or are only available during the day please choose our courier service. We ship within a few days but delivery may take up to 48 hours and is only working days and hours. Delivery is between 9am and 6pm.

 Contact us by Telephone 0151 228 2288 our opening hours are Monday to Friday 10am to 6pm and Sat & Sun 12-5pm
When you buy from us you are buying from a highly experienced and qualified team of engineers who have been in the business for over 22 years. All PCs are constructed using some of the industries best quality components, then built professionally and tested thoroughly so we can give you a 3 year warranty with confidence. All PC peripherals, Cases, Power Supplies and Graphics cards are Brand New. All Ryzen and Coffee lake systems are 100% New Components from major brands. The most important part of a PC system is the graphics card when it comes. If you want more information please check out our FAQ
All Computers are provided with a USB Wireless adapter. This is great for computers close to the router. If you are further away from your router or wish to play online gaming we recommend the internal LAN or add an internal wireless card available from Accessories.
All images and videos are for illustration purposes, Graphics Cards are all major brands and brand new.
Where videos show specifics and game play for a card please note that the model provided will match or exceed the chipset shown.

Please note that computers do not produce sound unless you attach PC speakers, headphones or a Screen with built in speakers. You can add these in our accessories section.